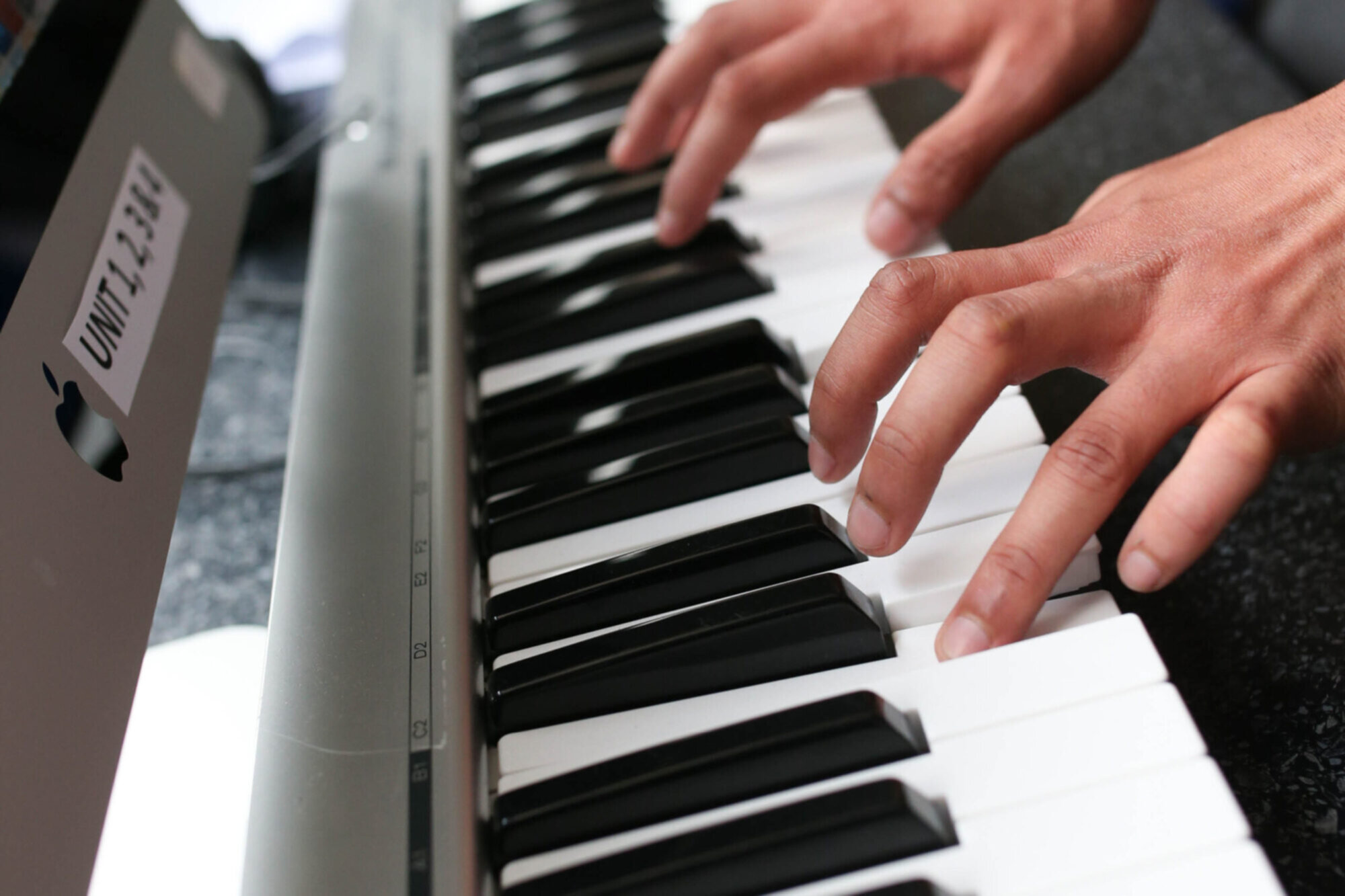 Music Technology – Production
Qualification
BTEC Level 3 Subsidiary Diploma
Awarding Body
BTEC Pearson (1 A level equivalent)
This Music Technology: Production course is for serious music technologists. St David's has industry-standard equipment including a fully equipped recording studio, professional analogue mixing console and an Apple Mac suite with Cubase Pro. The course covers creating a music product, music sequencing, sound recording techniques, sounds for multimedia and much more. The course is aimed at musicians, aspiring producers, and sound engineers who wish to be involved in the technology of music. It is for students who want to record, edit and compose using a variety of modern techniques.
Unit 13 – Mixing and Mastering
In this unit, you will gain experience in mixing down and mastering multitrack digital audio workstation (DAW) projects. You will also realise a sonic vision for a DAW project to achieve a desired sound. These skills are an essential element of all aspects of the music and sound industry. They can open the door to many career paths, including mix engineer for music, mastering engineer, audio post-production for film and television, and elements of radio broadcast.
Unit 6 – DAW Production (15 hour exam over 2 weeks)
In this unit, you will explore how the features of a DAW can be used to create and develop your own music. You will understand some of the background principals of how a DAW works, along with the associated specialist and technical terms. To complete the assessment task within this unit, you will need to draw on your learning from across your programme. While this unit covers the fundamental elements of working with a DAW musically, there is much more you can go on to do. The ability to use a DAW competently is central in progression to higher education music technology courses, as well as professional work in recording studios, production, composing, film music and games.
Unit 8 – Creative Synthesis and Sampling
In this unit, you will learn how to use synthesisers and samplers along with the language used to describe sound. From physical experiments on strings and pipes, through to analogue and digital electronics, you will look at how sound can be created, changed, bent and manufactured into anything a creative musician could hope for. This unit establishes clear principles for further development to higher education and employment in the field of sound design, engineering, composing and producing.
Unit 16 – Commercial Music Production
In this unit, you will develop the technical skills required to produce modern, commercially driven songs, and also explore the creative techniques which help to define the sound of commercial music. Commercial music reflects the tastes and values of the population and continues to contribute significantly to the UK economy. This unit aims to equip learners with the techniques that will help them to compete in the world of popular music writing and production.
Unit 3 – Music and Sounds for Media
In this unit, you will explore a range of music and sound creation scenarios that might exist in a typical portfolio for someone working in the music industry. You will create and produce music for games, films and apps, as well as create original sounds, noises and effects to support interactivity and action. As the online media industry emerges, sound skills are becoming increasingly important and in demand, for example audio engineers, foley artists and music editors. The skills you develop in this unit will help you to progress to employment in the music industry and to higher education.
You could work in or set up a music studio, work in a live environment with bands or in theatre, mixing dialogue and orchestras.
Work in film or TV, as a folly artist (creating sound effects), a live audio engineer, in a studio or outdoors on location, including documentaries or wildlife programs.
Alternatively, you can go on to university – Music Technology is one of the most varied courses offered, you can go from very technical and theory based courses (building synths and acoustic theory) to practical courses focused on recording and mixing bands and music.
5 C's at GCSE, or equivalent vocational qualifications.